July 10, 2019
From the Caltrans District 1 Facebook page (facebook.com/CaltransD1):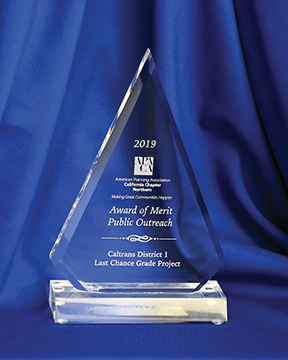 The Last Chance Grade Project in Del Norte County can now be referred to as "award-winning."
The coastal three-mile stretch of U.S. Highway 101 south of Crescent City is prone to maintenance and repair costs due to landslide activity. Work to find a solution for the area has earned an Award of Merit for Public Outreach from the regional chapter of the American Planning Association. The 'Association says the purpose of the award is to honor the most outstanding efforts in the field of planning in order to encourage quality and public awareness.
"Public engagement is some of the most important work we are doing on Last Chance Grade," said Project Manager Jaime Matteoli. "The project is highly complex, very difficult, has high levels of risk, and involves a large number of diverse partners and stakeholders. We need to work together to find solutions and ultimately make decisions that can be supported by this diverse group. It's very nice that Caltrans has been recognized for the good work our leaders and our project development team have done together to engage with our many partners and stakeholders. I give all credit to the early leaders of the project who conceived of and initiated the extensive public engagement program we continue to use today. Our leaders have demonstrated that transparency, accountability, valuing our partners, teamwork, excellent public communication, and collaboration are not just cute buzzwords that sit on an office poster. These things are necessary. I'm grateful to be involved with LCG and to be part of the District 1 team."
Caltrans District 1 was noted as a recipient of the award as well as contractor MIG, Inc.
The award was presented at a gala in Oakland on June 7.
More information about the project can be found at lastchancegrade.com