About the Project
In March 2014, Caltrans established the Last Chance Grade Partnership to create an active, working relationship with the agencies and groups that have management responsibilities for lands and resources that would be directly impacted by any realignment of US 101 at Last Chance Grade.
Engineered Feasibility Study
The Partnership initiated an Engineered Feasibility Study (EFS) to identify potential improvement projects that can ensure the safety and reliability of the highway while protecting the area's critical economic, environmental, and cultural resources. The study is a detailed investigation that considers a full range of needs, options, ideas, opportunities, and constraints. The EFS is used as a reference document that identifies potential improvement projects, enabling Caltrans to respond to and compete for various project funding sources as they become available. The EFS was completed in 2015 and the entire study is available in the Document Library.
Project Study Report
The next step in the process was to develop the Project Study Report (PSR). This report performs a more detailed analysis of the alternatives recommended for further study in the EFS as they relate to the cost, scope, and schedule of developing the project. During this study, alternatives and alignments were refined with more precise cost estimates along with more detailed technical analysis of proposed structures and right-of-way. The PSR was completed in 2016 and the entire report is available in the Document Library.
Preliminary Geotechnical and Environmental Studies
Funding for the project was initiated in May of 2017, when the California Transportation Commission approved $5 million for Caltrans to perform preliminary geotechnical investigations. Because the alternative routes all run through areas of historic landslides, the preliminary Geotechnical studies are needed to reveal if the alignments can be constructed as proposed or if doing so will result in the same sort of problems currently being experienced at Last Chance Grade.
In March 2019, the California Transportation Commission approved an additional $45 million for Caltrans to complete the environmental phase of the project. These studies will help us understand if there are major environmental issues that could rule out any of the current alternatives. Tree surveys will be performed in select locations to provide estimates of impacts to old growth redwoods. Caltrans and its Partners could ultimately make adjustments to the project alternatives or even eliminate alternatives based on information provided by the geotechnical investigations and tree surveys.
Expert-Based Risk Assessment
Caltrans and the Federal Highway Administration (FHWA) completed an Expert-Based Risk Assessment in June 2018. The Risk Assessment informs and supports any future recommendation to approve and fund a full realignment project. The Risk Assessment was needed as a tool to help the partnership narrow down the list of alternatives by focusing only on those that meet the need of the project: to improve long-term stability. An independent team of subject matter experts used the best available information to estimate the risks associated with staying on the current alignment and the risks of realigning the highway. The Geotechnical Expert-Based Risk Assessment report is available in the document library.
Value Analysis
Caltrans and its partners conducted a Value Analysis in the fall of 2018 that was instrumental in eliminating three project alternatives, which greatly reduced the cost and complexity of future environmental studies. The first and most important step was to hear from our many stakeholders on what they value, whether that is the longevity and stability of the highway or the protection of natural resources. In later steps, the Value Analysis team considered how to improve the current alternatives to better create value and finally presented the findings to Caltrans and its partners for consideration. Ultimately, all parties agreed that the three "C" alternatives (C3, C4, and C5) did not offer high enough value to merit further study.
Alternatives Analysis
Caltrans completed an Alternatives Analysis in April 2021 to determine which of the remaining seven build alternatives should be studied further in the environmental impact analysis. An alternatives analysis process was developed with input from stakeholder working groups. The analysis was based on criteria and performance measures related to the project's major objectives, which include providing a long-term safe and reliable roadway, reducing maintenance costs, and protecting the economy and natural and cultural resources. Caltrans hosted a series of workshops with the four stakeholder groups to solicit and refine stakeholder input on the methodology and criteria. The analysis resulted in Alternatives X and F being selected for further study. They are the best performers using the agreed-upon criteria and performance metrics. Due to their smaller project footprint, Caltrans will save $10 million and can potentially reduce the project schedule by one year. Alternatives A1, A2, G1, G2, and L were found to perform less well and had higher potential impacts. As a result, they were recommended for removal from further study at this time. All have substantially higher environmental impacts; G1, G2, and L have an assessment of "medium" geotechnical risk, and both Alternatives A and G would have a much longer duration of construction. Complete summaries of the Alternatives Analysis workshops are available in the document library.
Geological Factors
Last Chance Grade is in an area prone to geological activity. Caltrans has two jobs at Last Chance Grade to address the landslide hazard: (1) keep the highway open and safe and (2) find a long-term solution to the landslide damage and risk of failure. Both of these jobs will require major investments in time and money to perform field studies, testing, monitoring, and analysis of the three-mile-long landslide complex. Because of the large scale and the dynamic and complex nature of the landslide, new discoveries could be made about the landslide that result in changes in scope of the project that could delay the project. Various geotechnical reports and data products will become available as they are completed.
Storm Damage Repair
Caltrans continues to maintain and repair the highway at Last Chance Grade.
Landslides typically occur 1-3 times per decade and the rate of landslide damage has been accelerating in recent years; storm events in March 2011 and March 2012 resulted in significant roadway damage requiring emergency repairs. Storm damage in 2017 resulted in a temporary loss of the southbound lane at postmile 14.4.
Several emergency repair projects have been ongoing in response to damage from the winters of 2015; 2017; and 2018. To date, three different emergency contracts have completed their $35M worth of work to repair many of the damage locations. One remaining $14M contract will repair the last major damage location. It is on schedule to be completed in 2022, depending on weather. The work involves replacing three damaged retaining walls and building three new walls.
On February 15th, 2021, approximately 40,000 cubic yards of rock and slide debris material mobilized as the result of a large storm in the area, resulting in a full highway closure. Lane closures of varying lengths have been in effect since that time. Two 4-hour full closures per day have been in place since July 6th and are scheduled to be completed by the end of August 2021.
If no new/additional damage occurs on LCG, after the current work is finished in 2022, for the first time in 9 years two-way traffic will be allowed on LCG.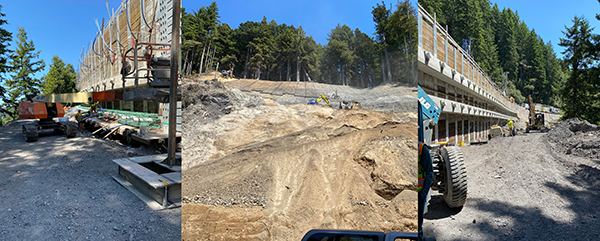 Economic Factors
US 101 provides year-round access for commercial trucking and recreational traffic. Since 1997, landslide repair projects have cost over $100 million when including the estimated costs of the current ongoing work.
If US 101 is closed due to a major landslide, this vital connection would be broken and the costs would be felt throughout the area; residents, travelers, and area businesses would be disrupted.
To quantify these impacts, Caltrans published an Economic Impact Study examining current costs and analyzing potential effects of an extensive closure of US 101. The entire report, completed in January 2015, is available in the Document Library. This 2015 study was then expanded in 2018 to include regional impacts to Humboldt, Del Norte, and Curry (Oregon) Counties.
A one-year full closure of US 101, caused by a landslide, could mean:
$650 thousand per day in travel costs for commercial and passenger vehicles—$240 million each year
$450 million in reduced output in Del Norte County
3,800 jobs lost each year
$145 million in lost wages annually
Cultural and Environmental Factors
The Del Norte Coast is a unique coastal ecosystem that is home to old-growth redwoods as well as rare and threatened animal species. Redwood National and State Parks encompass a majority of the affected highway.
The area was designated an International Biosphere Reserve by the United Nations in 1983.
The southern portion of Last Chance Grade intersects with an area of cultural significance, designated as a UNESCO World Heritage Site.
The area is of particular importance to a number of Native American tribes that have maintained a presence in the region for centuries.