Process & Schedule
The Feasibility Study, completed in 2016, initiated a process that involves scientific and economic analyses to assess the current conditions at Last Chance Grade and develop possible alternatives. The study also included a comprehensive outreach program and public meetings to inform and engage interested parties and provide opportunities for valuable input.
Identifying, planning, and constructing an alternative route at Last Chance Grade is a complex and lengthy process. Caltrans will need to conduct a variety of studies and analyses to support decision making throughout the process and secure stakeholder and community agreement along the way.
Below is a potential timeline that shows the sequence and timing of key project milestones. Note, however, that in the event of a large scale roadway failure at Last Chance Grade an "emergency project" would be initiated, with an accelerated schedule. In this scenario, Caltrans would (1) open a route to one-lane traffic as soon as possible during construction and (2) determine the scope of the emergency repair work quickly, based on the scale of the damage. All project phases including design, environmental documents, and construction would overlap on an emergency project.
2015:
Community workshops (Jan)
Stakeholder Group process (May)
Final Feasibility Study completed (June)
2016:
Project Study Report completed
Potential Funding Sources identified
Permitting process for geotechnical studies initiated
2017-2018:
Initiate Preliminary Geotechnical Investigations
Expert Risk Assessment
2018-2026:
Project Approval and Environmental Document process initiated (8 years). The process includes:


Ground surveys
Botanical studies (2 years)
Geotechnical studies
Wetland delineations
US Fish and Wildlife Service Biological Assessment and Biological Opinion
National Marine Fisheries Service (NMFS) Biological Assessment and Biological Opinion
Traffic studies
Other studies and analysis
CEQA/NEPA Public Workshops and Comment period
2026-2031:
Design and Permitting Phase
2031-2039:
Construction begins (5-8 years)
2039:
Alternative route open for the public
Below is a detailed project timeline graphic (click on the image to enlarge).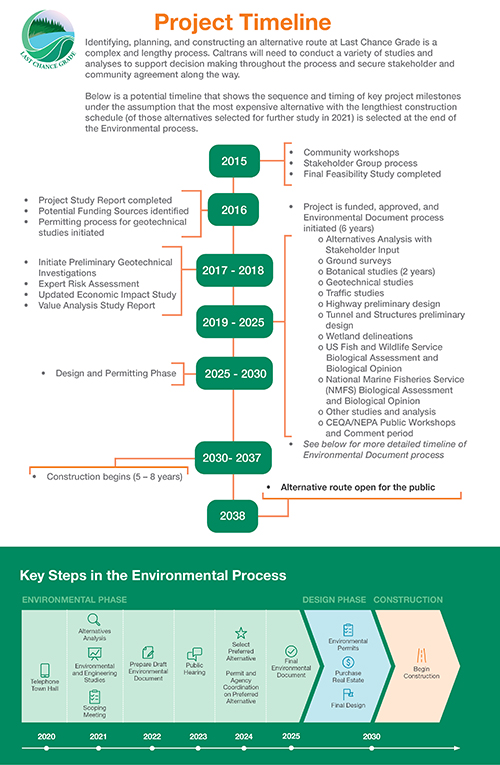 The most current reports and summaries of meetings are updated regularly and are available in the Document Library.