July 16, 2019
From the Caltrans District 1 Facebook page (facebook.com/CaltransD1/: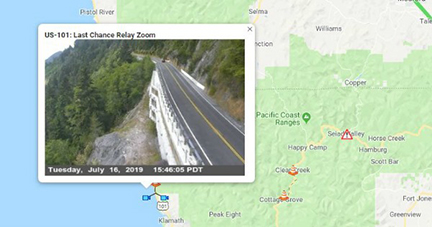 What?! We can see near-real-time photos of Last Chance Grade on Quickmap now?!
Caltrans is pleased to announce that a webcam is now online at Last Chance Grade along U.S. Highway 101 south of Crescent City in Del Norte County. The webcam is placed at the southern end of the landslide area that incurs millions in maintenance costs and repairs, south of a recently-completed retaining wall related to a lane closure in early 2017.
Quickmap viewers will see photos updated every five minutes. As service in the area is not the strongest, this cam is still in beta testing as we investigate any needs to improve the reliability of the system. Service may be interrupted.
"We couldn't have completed this work without the help of Crescent City, who graciously allowed us to install telecommunication equipment at their wastewater treatment facility," said Last Chance Grade Project Manager Jaime Matteoli. "This facility turns out to be the perfect location because it has a line of sight to the rugged and remote Last Chance Grade area. Caltrans greatly appreciates the partnership with the city and our many other partners and stakeholders who are helping us to keep the highway open and safe and together we are working towards the ultimate solution that is safe, smart, and sustainable for the people of Del Norte, the region, and beyond."
You can view the photos here: http://quickmap.dot.ca.gov