Road Maintenance Activities - April 11, 2017
From the Caltrans District 1 Facebook page (www.facebook.com/CaltransD1):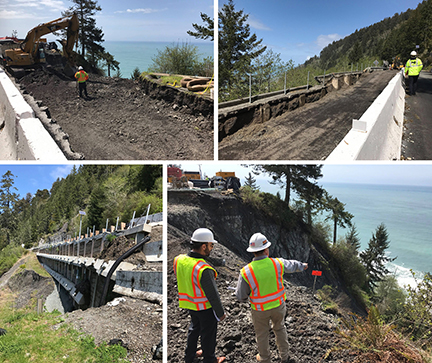 Tom Paulino, a representative from U.S. Senator Diane Feinstein's office, took a tour of Last Chance Grade in Del Norte County with several high-level members of our project team and field engineers yesterday, and also attended a meeting of Congressman Huffman's Last Chance Grade Stakeholder Group.
Reconstruction of the southbound lane that was impacted by a slide at postmile 14.4 has continued - the first two photos show some of the progress that has been made towards restoring the southbound lane to a safe and usable state.
In addition, Caltrans has submitted a request to the California Transportation Commission to adopt an amendment to the 2016 State Highway Operation and Protection Program (SHOPP), which would essentially provide us with $5 million to begin conducting environmental studies for seven proposed realignment options at Last Chance Grade. The item would have to be approved at an upcoming CTC meeting; the next meeting is scheduled for mid-May in San Diego.